---
Bumpstop spacers
As soon as you are over 30" tall tyres ( even earlier if not a sport ) then you will need to lower your bumpstops to prevent fouling the guards under full compression unless you do major trimming. I run 31.2" tall tyres ( 275x70x16 ) and have 2" lower bumpstops than the sport stock which are about 1 1/2" longer than stock already. The mistake is often made that if you raise the suspension than this is not necessary but that is false because even at 12" of lift at full compression the tyre still ends up in the same spot as a stock XJ.
On the front you can use some pipe with some 5/16" round plate on top welded in or much easier is the hockey puck method shown. Some have even used a cheap rubber mallet head cut in half.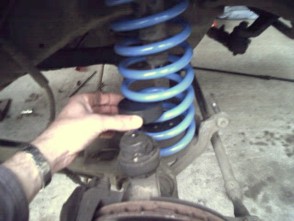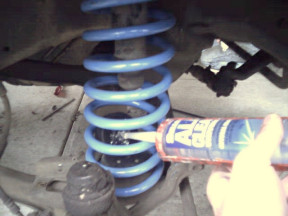 On the front I have used either rubber hockey pucks ( 1" each ) which you just slide in-between the coils and glue them in place using silicon like roof and gutter sealant which adheres very well. First clean the where it is going to sit inside the bottom of the coil. Then just slide the puck in then lay it so you can put the silicon on it. If you do it first its gets all over the coils!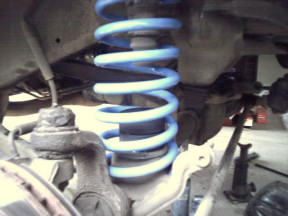 Here you can see I have added two pucks and have combined it with raising the shocks the same amount so no travel was lost as shown here.
Materials for rear.
You will need 350 mm of 50x50x3 SHS ( square hollow section ) to insert between the bumpstop and the frame, plus four 5/16"x1" long UNC grade 8 bolts with nuts and washers.
Cut two at 155 mm long ( any longer and the shocks will touch at full compression ) and pilot drill them before drilling to final size.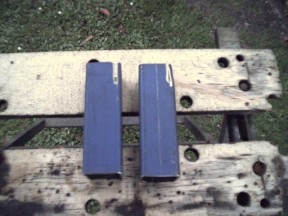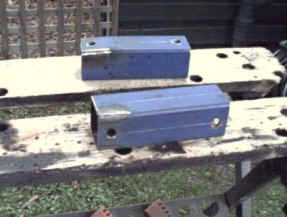 The frame starts to curve so in order for it to stay flat the end must be bent. This can be done by either hitting the end with a large hammer to crush the end or as above where a slot is cut before bending and then welded back up.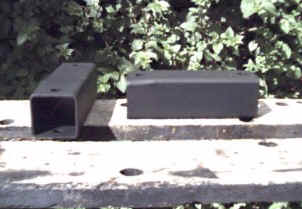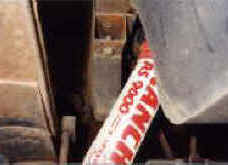 Then it is only a matter of painting and using the original bolts inside the tube to bolt to the frame and bolting the bumpstop to the new spacer. If you have used 50x25x3 SHS then it is best to buy 2" long bolts and bolting straight through as there is not enough room to do as above.
Alternatively you can use different ones that were fitted to different models with Limited etc have the shortest and Sports like shown with the Up Country option having longer ones to MJ's etc. These are the dealer part numbers:
3" #52002382

3.5" #52002381

4" #52002392

4.5" #52002078
[Index]