---
4x4 Trailer coupling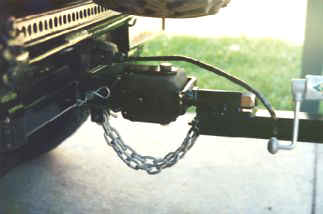 If you are going to offroad with your trailer then you will require a coupling that allows you more movement than a standard one because it will bind and break when it runs out of travel. What I use is basically a large universal. I made this one myself out of solid rubber 4" square and high tensile bolts. The main rotating pivot that is welded to the drawbar is a 1" bolt through pipe of the same internal size with a grease nipple. The head of the bolt is welded to 2" by 5/16" thick flat that is in a 'U' shape. The 1/2" bolts that pass through the rubber block are sleeved in 1/2" water pipe. The other 'U' is welded to 2" square tube that goes into the receiver hitch and is held in place by the hitch pin. The rubber block also insulates the trailer from the car and I don't feel the trailer even when pulling it over fallen logs a foot in diameter. I have used this setup for over 65,000 kms. (40,365 miles) without a single problem.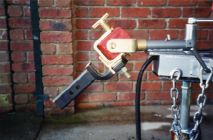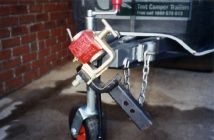 This a commercially available coupling that is made by Treg in South Australia. It is rated at 2270 kgs (5,000 lbs.). Shown here with my hitch tongue attached. The block is made from polyurethane. The coupling is released by pulling a retaining pin underneath and then pulling up on the 'T' handle leaving the 'U' section bolted to the tongue. It has a full 360* range where you could roll either the car or the trailer leaving the other one upright. Not a recommended test but my wife has tried it with my other one when the car got rolled (see specifications page). Have just seen them used in the USA for the first time here.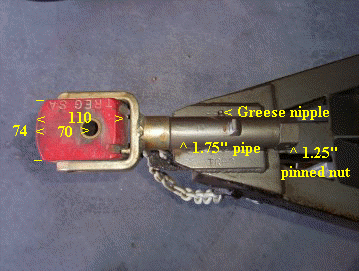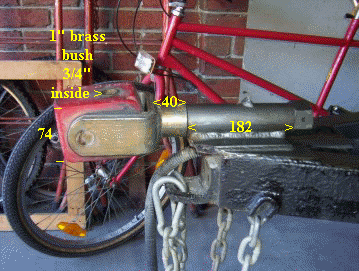 You might be able to make one similar to this so have provided the dimensions for you. I was able to mount mine just to a piece on SHS tube that fits straight into the hitch as this was the right level to keep the chassis of the trailer level. They are made to fit the standard hitch tongue as shown in the photos above. The ends of the polyurethane block is radius in the two different plans to the centre of the bush ( 70 mm ). The block is 74Hx74Wx110L with the bushes 70 mm in from the end. All measurements are in millimetres unless noted.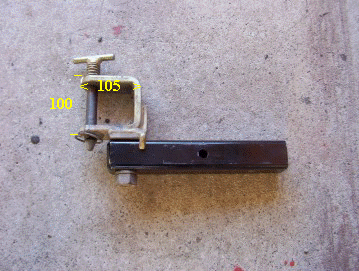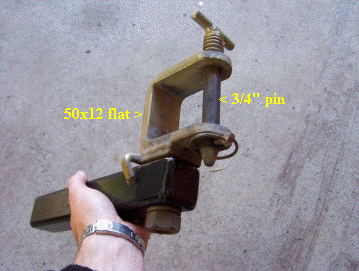 The dimensions are the same for both U sections. There is how ever an extra plat added to both the bottom and back of the hitch U for extra support.
[Index]