---
Output seal replacement
Changing the output seal of your transfer case is a quick and easy job to do yourself and does not require the removal of the case of even draining the fluid. If fact it is only the four bolts that hold on the driveshaft is all that has to be done.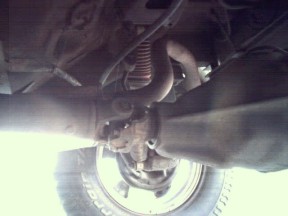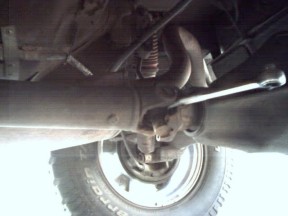 Mark using whiteout or paint the driveshaft and the pinion at the same spot so you know where the two will go back later. Remove the four bolts that hold the universal in place and lever out if necessary as shown but make sure that the cups don't fall off loosing the needle rollers. Then slide out the driveshaft and a little oil will come out that is left in the end of the extension housing and wrap the end with a rag so it is not scratched.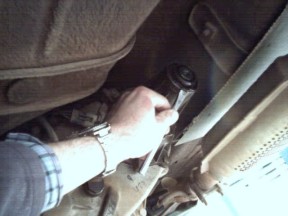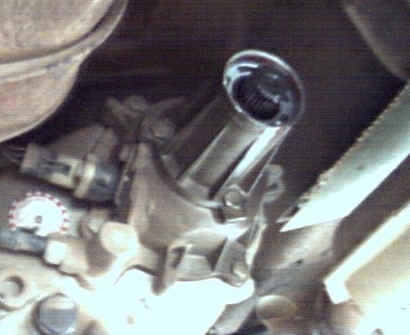 The seal can be taken out using a small cold chisel behind the lip and a large screw driver might also be needed levering from inside the seal against the end of the shaft. It does not matter if the seal is destroyed doing this but be careful of the housing and shaft. Once out clean away any old sealer ready for the new seal. Measure the driveshaft and the inside of the housing ( 1 1/2" and 2 3/8" ) in case it is not on file at the local parts store ( a bearing retailer are your best bet ). Otherwise the Chrysler P/N is K04638904. I used one from Bearing Wholesalers with a part number of: 402965N. The same seal is also sold under the part numbers at different places of: CR 1497978 and PR 4555 S. These might be able to be sourced from the USA as well.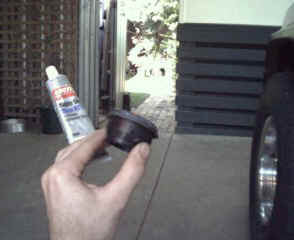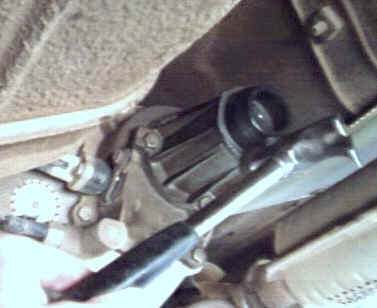 I have used one from a Australian Ford Falcon as it is very common and has the option of a extra boot as well which will help keep the dirt away from the seal making it last longer. You must use a sealer ( seal can come back out when hot or fluid leak past the outside of the seal if you don't ) like Loctite Blue RTV around the seal before tapping it in in a circular fashion or use a large socket or pipe is even better if you have one. The driveshaft should then be cleaned with fine sandpaper to remove any dirt and rust from the seal contact area and also the universal cups and where they sit in should be cleaned as well. Make sure as you slide the driveshaft back in that the markings you made earlier line up again as vibration can result if this is not done. Refit the saddles bolts ( 14 Ft-lbs ) and after a test drive make sure everything is fine.
[Index]