---
Cold air induction with intake and airbox shielding.
Ram induction
It is well known that the easier the air is sucked in and the colder the air the more hp. you will produce. So with this in mind I have made a few modifications to get this free boost by guiding the air into the airbox as well as shielding and insulating the from heat as much as possible the air pathway into the engine.
To force more air into the airbox I cut some 3/8 rubber so it could be curved 90 degrees from under the grill to the bottom of the intake hole in front of the airbox ( not all models have this hole from the factory but could be cut out if not ). This stops air from going under the car and away from the airbox.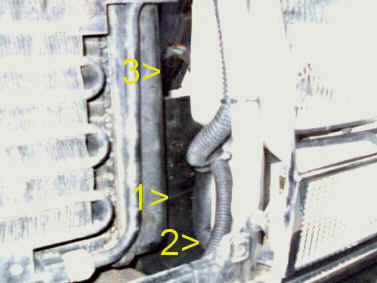 No.1 shows the position of the rubber in place curving from the back of the grill support to the bottom of the intake hole ( No.3 ). No.2 shows the foam rubber forced in to stop air passing past the hole and goes from the bottom of the indicator to the top of the radiator support panel. More was also placed just above the hole under the radiator support panel. I also used some larger foam rubber on the other side to force more air through the radiator instead of slipping past in the gap that was there.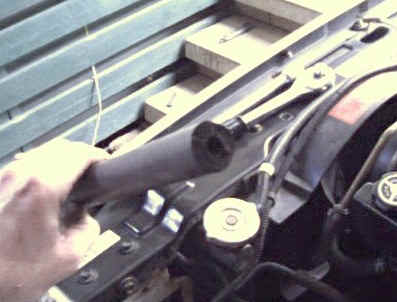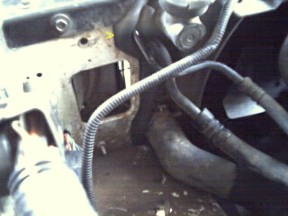 Above shows the foam rubber that was forced in between the support panel and the radiator so no air could escape through there.
[Index]