---
GPS INSTALL
I have fitted a Garmin GPS III to my console as didn't want it to be easily seen through the window but still somewhere my wife and I could read it from both seats. I first borrowed the GPS to see where I could best fit it and came up with the free spot in the console. This also makes it look more integrated and not tacked on like other installations I have seen. Now any of the Garmin GPS I, II, II+, III, III+, IV or V will fit as they have the same shell. Fitting it here did require the use of an external aerial which I was going to fit anyway as they give far better reception. I do put the GPS screen up to maximum brightness to make it easy to read in this position. You just have to push the on button a further couple of times to get it.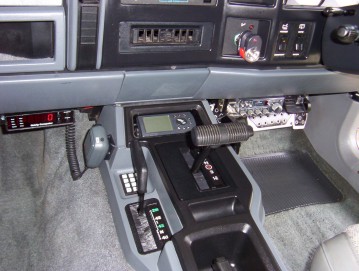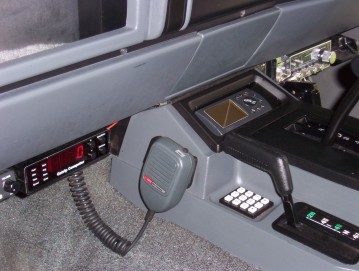 As you can see it fits in really well and in fact it is such a good fit that there is no need for fasters at all. This also makes it a easy removal job if you are not using it or want to take it on a walk with you. No ugly empty brackets to look at once it is removed either.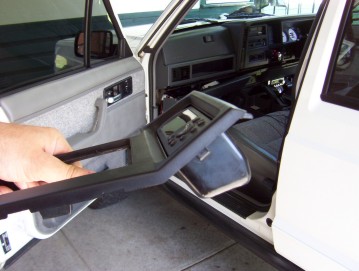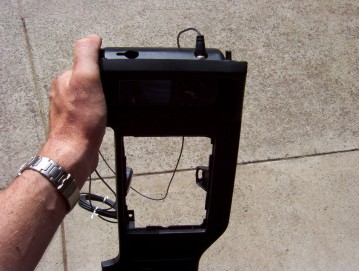 The photo shows a close up of it's flush position in the console bin. You can follow how to get the console out here. The two holes made at the back of the bin are for the power and the remote aerial lead.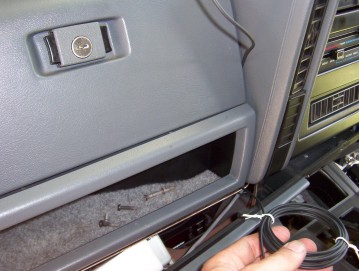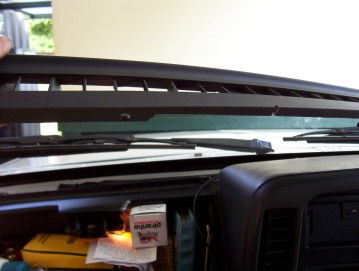 The aerial lead was run in between the dash joint as shown. Then along the edge of the glove box out of view. The trim along the windshield was removed and a small groove filed into it where I wanted it to come out which you can see in the right photo.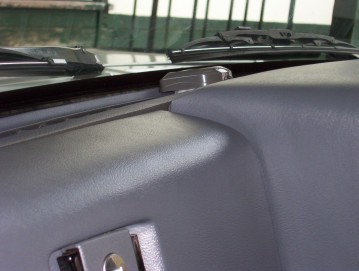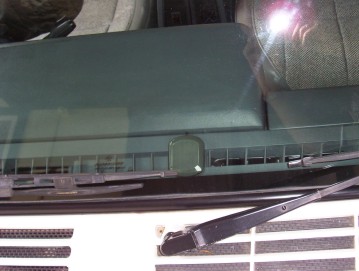 It sits hard against the windshield with a full view of the sky and the satellites. It is also positioned out of the way of the wipers and the heater vents as well.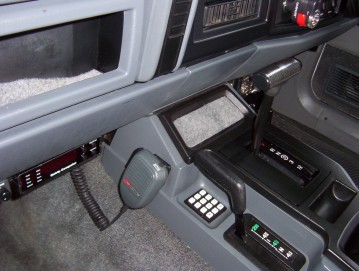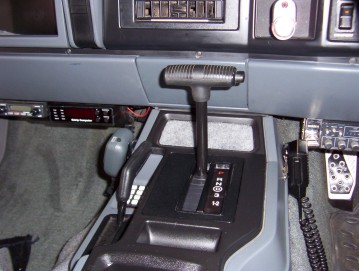 I also cut a matching piece of trimming that my subwoofer and other things are covered in. This sits neatly on top of the GPS when left in the car and removes some temptation for breaking in. The piece also sits in the bottom of the bin covering the holes for the leads when the GPS in not in place as well. So I have quite a communications centre going on with first a in/out digital thermometer, then a UHF GME TX4300 CB, followed by my trip computer. The GPS is next before my AM 40 channel Uniden PC122 CB then a brake controller and sub woofer amplifier. Yet with all that it still manages to look un-cluttered.
[Index]