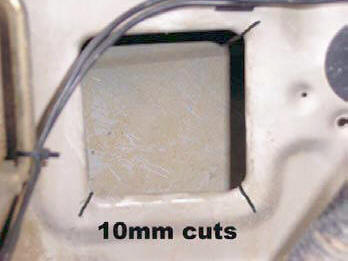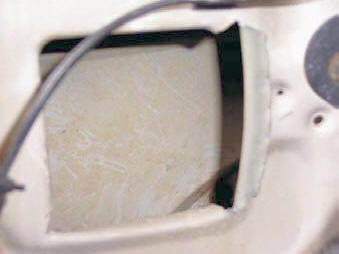 So now that I was getting really good at cutting, the next thing is to remove the airbox. First you need the remover the clip off the wires on the top of the lid of the airbox, then remove the lid all together then take out the air filter and undo the 2 bolts holding it in. One is in the bottom of the box and the other is under the ECU just beside the airbox. Then take the pipe that runs from the airbox to the inner guard out and place off to one side as you will be needing it very soon. Once the airbox and stuff are out of the way itís was time to make the square opening a bit bigger. To do this I simply cut 3 times, once into both of the 2 bottom corners and once in the top right corner. After that I just bent the bottom one back into the wheel well and the side one I bent back towards the engine and flattened it up against the wall. Now that was the last of the metal cutting. (*Sigh and wipe the brow*)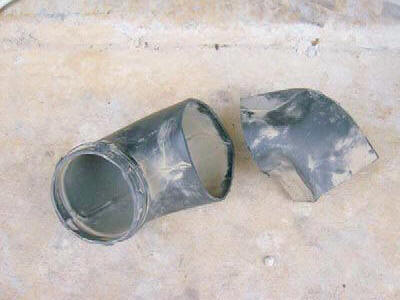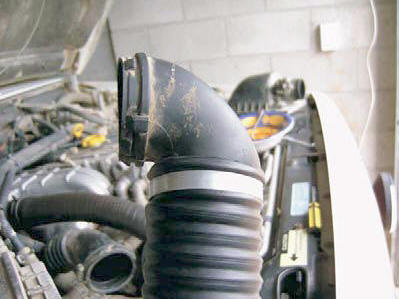 Now it time to get the airbox hose and cut right at the point that the round finishes and the square starts. Then attach the flexi hose to the end of the round end of the airbox hose you just cut like in picture above. Also use urethane to attach the flexi hose to the air box hose. ( Paint all exposed metal to stop any rust in the future. Gojeep ).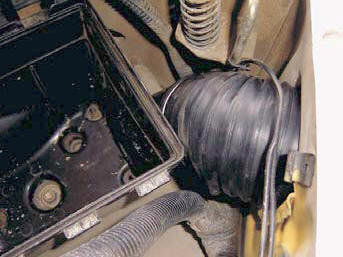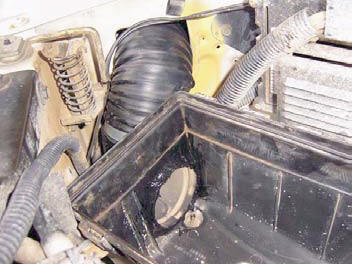 Then attach it to the airbox as normal then put the airbox back in itís location and bolt it back down. Once it is fitted back in and the hose is in place, use urethane to seal were the hose clips into the box as shown in the pics below. The next thing was to feed the hose into the new opening you just made in the inner side wall and into the wheel arch.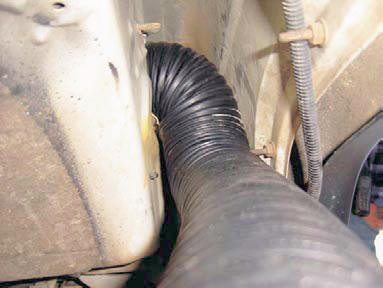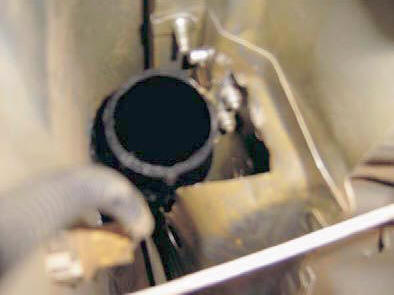 WARNING WATCH OUT FOR THE BOLTS THAT HOLD THE FLARES ON. I almost punched a hole into the middle of the hose which is not a good idea Now run the flexi hose up over the top of the strap that is in between the inner and outer guard for support. Then its time to put the snorkel in to the HUGE hole you have in the side of your jeep. You will have to wiggle it around a bit. Also donít forget to paint any bare metal that is showing.
[Index]