---
Airbag suspended truck hitch
This is a hitch that I designed and built for an interstate trucker ( Barry ) who tows a triple axle trailer interstate every week moving of all things coffins as well as shop fitting and house removals etc. The road travel is rather bad and many times the trailer has suffered from the vibration moving from the truck down the A frame into the trailer chassis causing fatigue cracking and failure. I swapped in full load sharing springs with shackles etc instead of the slipper spring type that had worn right through the chassis and dropped inside the box section of it. This is now the second one I have built for him as the first was so successful when the truck was replaced I made another one for him which is shown.
The hitch is pivoted at the back of the chassis and braced with a A frame each side of the receivers centre member which travels the full length from the pivot. The pivot has been fitted with grease nipples for servicing.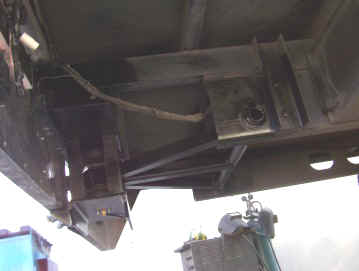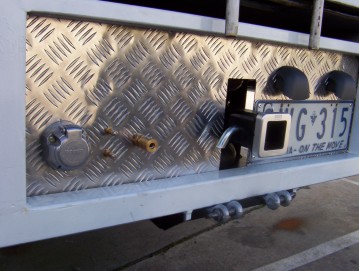 You can see above the platform which supports the two single tear airbags from Firestone. They offer about 2" of travel between them which has been more than enough to remove the transfer of vibration to the trailer or even vice a versa. I also ran a line from the compressor tank to the back next to the fill valves for the bags so it is simple to adjust the bags for different loads. It is adjusted to be perfectly level each time. He has found that only half the pressure is needed in the top bag which controls the upward movement.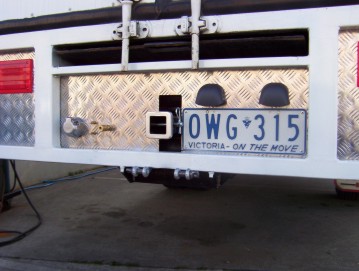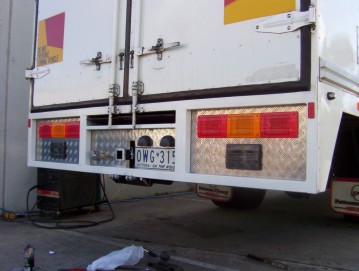 I also fitted a single piece of checker plate from one side right to the other side of the truck. Into this I recessed Hella LED lights as well as clearance LED's right down each side of the truck.

[Index]